Proaim Pro Universal Laptop Workstation
---
THE MOST EASY TO CARRY WORKSTATION
Super-Compact and User Friendly. Pop it into Action Instantly!
01.

TAKE TETHERED SHOOTING TO THE NEXT LEVEL
The Pro Laptop Workstation is a combination of products that allow for a multitude of different laptop workflows. It enables the use of laptops while you are on the field or working in a space constraint, with some stands and no tabletops around. The complete kit allows you to mount your Laptop onto a C-stand or provided Legs quickly.
Being able to do this, helps you in keeping a close watch on the images and video and allows you to make instant adjustments to the look, which might not be possible while looking at an image or video on the back screen of the Camera. Tethered shooting on location instantly makes you look more professional, work quicker, and achieve the look easier.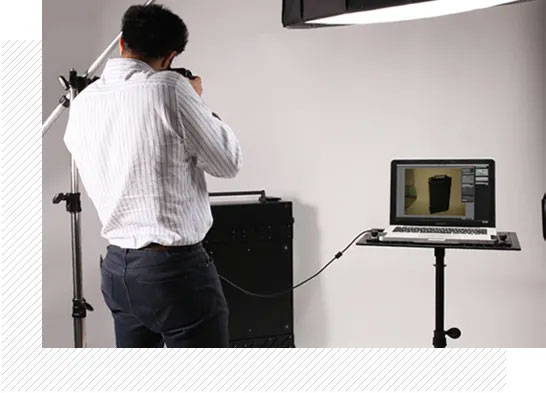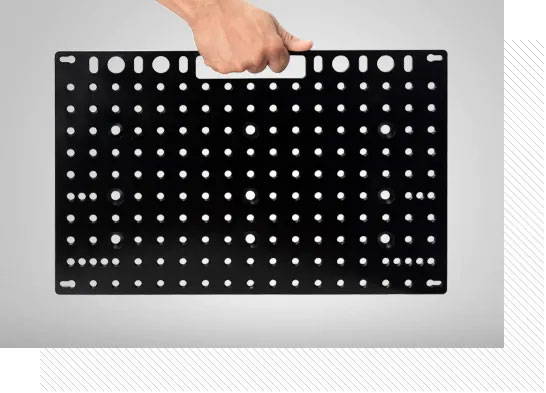 02.

LIMITLESS EXPANDABILITY
The base plate is designed on the tried and tested "cheese plate" design used by professional photographers and videographers. With holes tapped with the very common 3/8"-16 thread size; the Workstation is virtually limitless when it comes to expandability
03.

COMPATIBILITY
The Workstation is compatible with any laptop that has a height between .375" to 1".
The included 3 different sized shims help in Laptop height adjustment. If your Laptop is not slim enough, need not worry; add more shims to adjust the height as per the Laptop securely.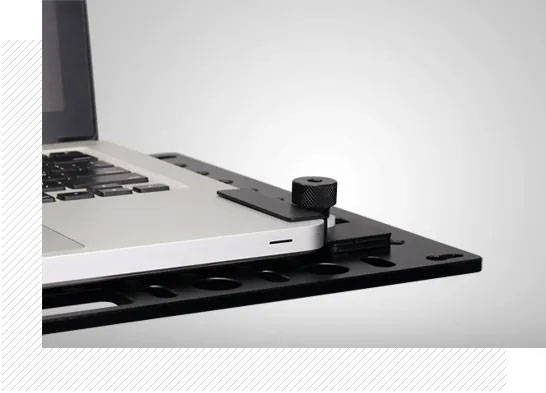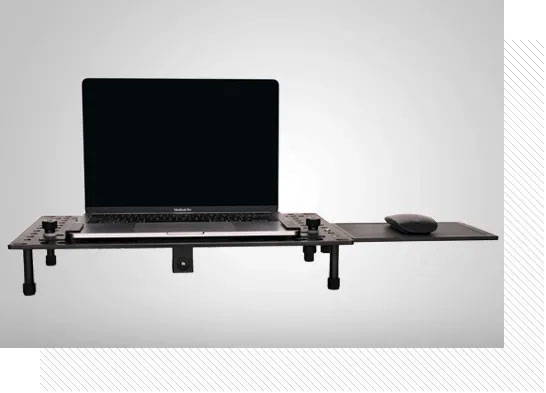 04.

EXTREMELY PORTABLE, HELPS TO KEEP THINGS ORGANIZED
The Pro Laptop Workstation gives you the ability to lockdown the critical tools needed for the most demanding workflows in one ultra-portable system that you can carry in your bag and set up within seconds. Do you want to use it on a C-Stand? You can put it on the C-stand Clamp. Need to put it on the ground? No issues put on the provided Legs.
05.

ELIMINATES UNWANTED LIGHT
We know one of the biggest challenges of tethered photography is battling the sun and other light sources, therefore to cope with this; Pro Laptop Workstation comes with a fully built "Tent Like" sunshade that easily connects to the Base Platform. This ultra-lightweight aluminum frame is fully collapsible for small storage and assembles quickly. The shade contains 6 internal pockets for equipment storage, i.e. hard drives and card readers.
The water repellent shade features pop-out rear back to allow for tilting your laptop display and also a removable front viewing panel for those ultra-sunny locations like the beach and snow.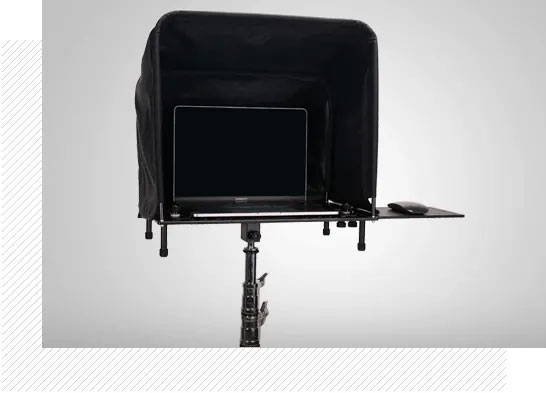 Height Range: 0.375 to 1" / 9.5 to 25.4 mm
Base Platform: 17.50 x 11.125 x 0.250" / 44.45 x 28.25 x 0.635 cm
C-Stand Clamp: 2.5 x 1.2 x 2.4" / 6.4 x 3 x 6.1 cm
6 x Shim Set: 2 x 6mm, 2 x 3mm, 2 x 1mm
Base Platform
C-Stand Clamp
4 x L-Brackets
12 x Shims
6 x Locking Knobs with Washers
Laptop Shade with Front Panel
Mouse Pad with Clamp
4 x Robust Legs
1 x 7/32" allen key
Bag Packing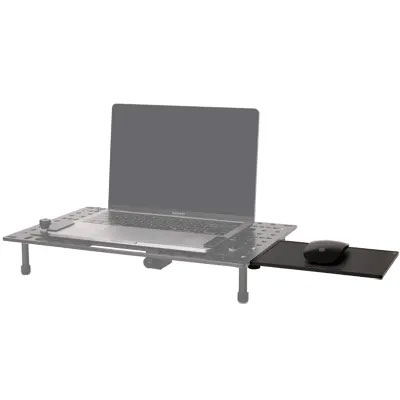 Mouse Pad

The Mouse Pad is an extension that attaches to either side of the Workstation and gives you a surface for a traditional mouse. The pad surface lets your mouse glide with ease. It is adaptable for either left or right-hand use.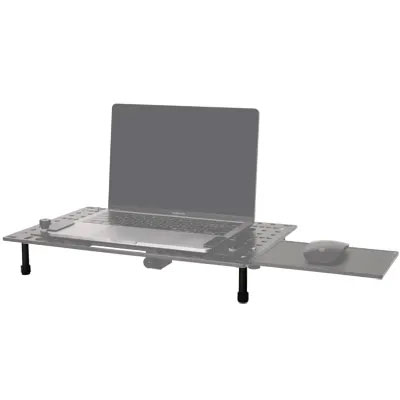 Legs

The Legs transform the Workstation into a working table; this is especially handy when you have items like the hard drives mounted to the bottom of the plate. The legs elevate the plate and even out the bottom surface for accessories attached below. The bottom of the legs has rubber pads to prevent scratches on delicate surfaces. It is Great if you need to set the plate on a wet or nasty surface.
---
Guaranteed Fast Delivery
For all orders
Quick and Efficient
Customer service

Easy Returns
Up to 30 days
1-Year Warranty
On All Products
---
Have a Question?
Be the first to ask a question about this.
Ask a Question